Hey guys! Following on from my post about plus size magic knickers, I thought I'd make another post about plus size womens clothes. When it comes to plus size clothing it can be hard to find items that are on trend that go up to a suitable size and it's a real pain in the you know what. There are a couple of high street shops out there that are catered to plus size women, but with Womens clothing at Simply Be you can be on trend and the prices are brilliant too. Sizes run from 14-32 so no matter what size you are, you'll be able to find something to suit you. You can also currently pick up some good bargains in the sale on their website with up to 60% off.

Here are a few of my favourite things from their website at the moment-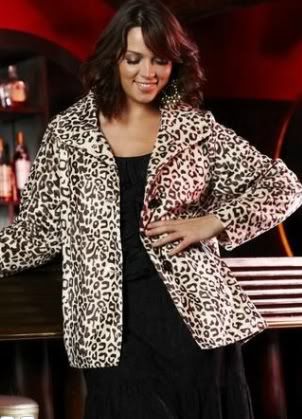 This jacket stood out to me for the simple fact that it's leopard print. I cannot get enough leopard print! I think this jacket is a nice length than would suit most, not too short and not too long. I also like the fact that it is black and white leopard print instead of the traditional orangey brown and black. It's also a steal at £25! It also runs in a smaller size than the usual 14-32 as it's also available in a size 12 (but it's currently limited stock!)
This dress is simply wonderful! I find it hard to find dresses as pretty as this anywhere else. It's so femminine and I love the tiered effect. The black belt really adds that finishing touch that will also sinch in your waist a little so even if you don't have hips, it'll give you the effect of hips! This dress is currently on sale at £36 (saving £24 off the original price) I would wear this with some leggings and ballet pumps for a more casual look. A great addition to your summer wardrobe!
I wear cardigans like this on an almost daily basis. I usually go for black ones because it goes with everything, but this one is gorgeous in this greyish colour. I love cargigans that hang like this one as they are always flattering on bigger figures as the drape effect just hangs off your curves and doesn't cling. I wear these cardigans as a nice little cover up when it's too hot for a coat and too cold to go without. This cardigan's by And Abigail and currently is on sale at £36 (it also comes in black if this lighter shade isn't to your taste.)
This top is just so me. The wonderland design is just stunning! The top features one long floaty leave and one short sleeve, which I think adds a really unique edge to this top; you'd stand out in the crowd, that's for sure! I like the minimal use of colour too as it gives it a more 'classic' look. This top is currently on sale at just £18 (saving £17)
How perfect is this?! It's a really fun jumper that features some cartoonlike hearts. It's longline and I think the red, grey and black look amazing together. It would look amazing with some leggings for a more casual look. I've owned some of Joe Brown's items in the past and they are so well made, I love 'em! This jumper is currently on sale at half price at £24!
Hope this was helpful!
Speak to you all soon!