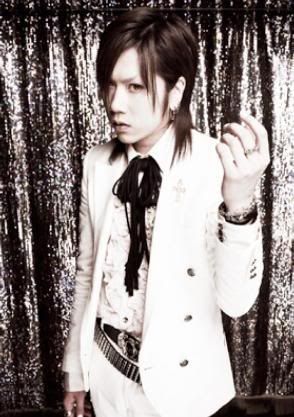 RIP Daisuke
Daisuke (Kagerou, The Studs) was found dead today. It's a sad day in the world of Japanese music.


---


大 佑を応援していただいた皆様へ

大佑が、平成22年7月15日永眠いたしました。
生前、お世話になりましたファンの皆様や関係者の 皆様に謹んでご報告いたします。
尚、通夜 葬儀告別式は、ご遺族の御意向により近親者のみで執り行われます。

大佑を応援していた だいた皆様、ならびに関係者の皆様に、
生前のご厚誼を厚く御礼申し上げます。

-------------TRANSLATION------------------

To the fans and affiliates,

We regret to inform all fans and affiliates that Daisuke was laid to rest on July 15, 2010.

In respect of the wishes of his family the funeral procession will be carried out with his closest relatives only. We thank you deeply for all your support for Daisuke up to now. Our upmost and heartfelt condolences go out to everyone.


---


Apparently this is how it happened...
"Just before the release of a new song! A former member of the visual kei rock group Kagerou, Daisuke (Oshida Daisuke, 32), also known as the Charisma Vocalist, was found dead by a friend in his apartment in Shibuya, Tokyo. The rumour says there was no scandal involved, but that it was either an accidental death or a suicide.
---
A record label staff member said "An album would have followed the new single in Autumn. There was also plans for an European tour this year. We had also gotten an offer for a concert in America...".
However, last night, after a meeting about the upcoming release, overseas tour and Daisuke's future musical activities, he apparently told others he can't get sleep, and after returning home, he might have taken a large dose of ataractic drugs and alcohol. A friend who got worried after not being able to contact Daisuke, went to visit his place at 2am on the 15th, and found Daisuke dead."
Source: karmik